Photo of the Month - June, 2004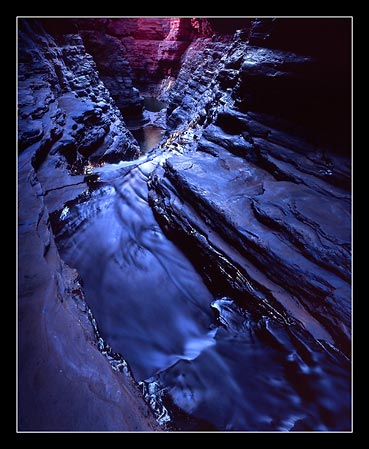 Hancock Gorge
Karijini N.P.
This month, subscribers to the Photo of the Month received a Special Edition 4x5 inch metallic print of this scene and 10% off the full sized print's price. If you would like to receive a 3 month free trial subscription for the Photo of the Month, please fill out the details on this form.
The image depicts the deepest part of Hancock Gorge that I was able to access during my recent trip to the national park. The gorge has an eerie silence about it, and I spent about an hour just revelling in this location's beauty. It was truly spectacular - like few other places I've ever been.
Cool flowing water drags you into the image, encouraging exploration of the golden pool at the base of the waterfall. The softness of the water contrasts with the solidity of the confining rock, just as the cool blue light in the foreground contrasts with the warm light reflecting about the distant chamber.
Graeme Hird

Find out more about the benefits of the Photo of the Month
What's the Connoiseur's Collection and why is everybody raving about it?